Production Potters of the Midwest, Library of Congress.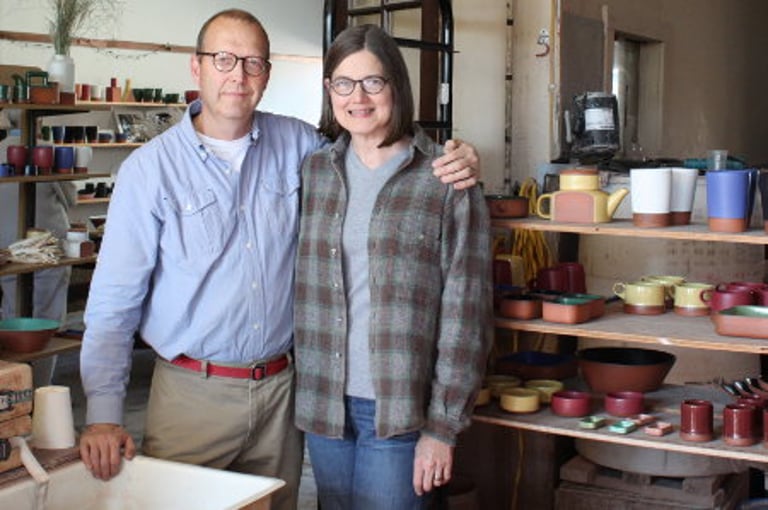 Culture has been defined as what we make of the world. Functional pottery is Paul Eshelman's cultural attempt, through the material of clay, to bring order and human dignity to the merely physical act of consuming food and drink. As his pots are used daily, Paul's hope is that they carry measures of quiet and nourishment for body and spirit. He imagines people at a dinner table, workspace, or office cubicle where food and drink are served and humanized by hospitable, well-ordered pots.
Paul's developing artistic interests were directed along practical lines as he grew up in Iowa. Simple utilitarian objects guided him aesthetically. Eshelman received a B.A. in art from the University of Puget Sound in Tacoma, Washington and an M.F.A. in ceramics from the Rhode Island School of Design in Providence, Rhode Island. Laurel received a B.S. in biology from Wheaton College in Wheaton, Illinois and since 1988 Paul and Laurel have been living and making pottery in Elizabeth, a small farming community in northwestern Illinois. They have three children who all worked in the pottery during their years at home. The pottery has gone out to enhance the lives of people across the country. They are in service at the Alinea group restaurant, Roister, in Chicago and at Teaism in Washington, DC. The work has appeared in numerous books and magazines and is held in permanent museum collections nationwide.
The clay body is a red stoneware; the glazes are all lead free. The wares may be safely used in the microwave and dishwasher as well as the conventional oven if the oven is not preheated. (Casseroles may be used in a preheated oven.) The pieces should provide many years of service.
Paul and Laurel Eshelman

Articles
Curriculum vitae